Antimicrobial Copper: Fellows Antimicrobial Product Development
A HELPING HAND FROM COPPER: A Safer Place with Copper Touch Surfaces.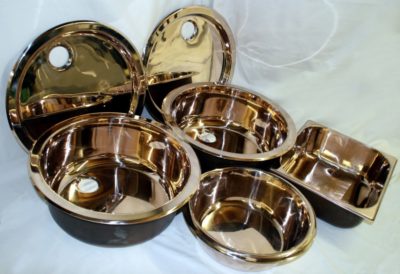 How it started:
Fellows initially became involved within manufacturing trials using Antimicrobial Copper material during 2015. This activity following a brief conversation and a follow up meeting with a consultant who worked within this field. The meeting opened our eyes to the importance and benefits that this material can do within today's society.
Having been presented with the opportunity of using this Antimicrobial Copper Alloy we first needed to establish the materials working parameters. So, when subjected to cold forming via a Deep Drawing process route that would fit ideally within Fellows scope of manufacture. These initial exercises were performed on our current available tooling and gave us an indication of the parameter extremes that we were looking for.
Following this part of the exercise, once understanding the material Fellows were quite successful in producing a range of products of our existing tooling. This gave us the confidence to review further opportunities in working within this range of material.
A 24/7 Problem:
Society today faces a continuing battle against a host of bacteria, viruses, yeasts, and fungi. The foundations for the many clinically termed problems that have now become commonplace within our daily lives such as CRE, Coronavirus, Influenza, MRSA, Norovirus. The results of which can have devastating consequences if not controlled effectively.
At present and in principle we rely upon effective cleaning and cleanliness of surfaces to at best help minimise and reduce the spread of contamination. Albeit, there may be very strict guidelines for regimented cleaning on so many occasions in so many places. So, the question has to be asked how effective is the cleaning, and if it is effective why do we hear of so many cases of people becoming ill via infections. Whilst they are in what we believe is a hopefully clean and sterile environment.
The natural Antimicrobial properties of Copper Alloys have a strategic place in today's environment whether it be in social / public areas or places that demand strict Clinical cleaning requirements. The impact of Copper upon Bacteria works non-stop around the clock, even if cleaning is not 100% thorough.
Following are just a sample of some of the notes / comments I have compiled from numerous data sources that answer many of the questions I initially raised but more importantly help in giving a better general awareness.
DO COPPER SURFACES NEED CLEANING?
Copper and copper alloy surfaces should be cleaned in the same way as non-copper surfaces. They will naturally darken over time, but this does not make them less effective – in fact, it enhances their efficacy.
HOW CAN COPPER HELP?
Germs can't survive on copper and many copper alloys. Therefore, preventing them from being picked up on someone's hand and potentially spreading an infection. Copper and copper alloys are hygienic materials.
Hospitals guard against the spread of infection using a range of measures. This includes handwashing and ensuring surfaces are regularly cleaned. Copper and copper alloys work alongside these as additional protection.
HOW IS COPPER USED?
Surfaces people touch often – such as bed rails, door handles, and taps – can be made from copper or copper alloys which work 24/7, in-between regular cleans. These solid materials won't wear away – unlike a coating –and continue working for the lifetime of the product.
WHAT DO COPPER SURFACES LOOK LIKE?
Copper alloys come in many different colours, from copper-red to bronze, golden brass, and even copper-nickels that look like stainless steel. Whatever the colour, when you see copper or copper alloys, you're seeing a helping hand in the fight against infections.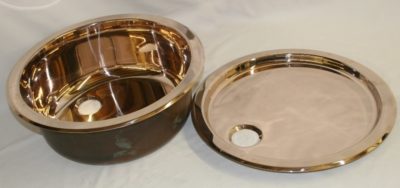 HOW DOES COPPER AFFECT BACTERIA?
Science suggests that copper surfaces affect bacteria in two sequential steps. The first being a direct interaction between the surface and the bacterial outer membrane, causing the membrane to rupture. The second is related to the holes in the outer membrane, through which the cell loses vital nutrients and water, causing a general weakening of the cell.
HOW CAN COPPER PUNCH HOLES IN BACTERIUM?
Every cell's outer membrane, including that of a single cell organism like a bacterium, is characterized by a stable electrical micro-current. This is often called "transmembrane potential", and is, literally, a voltage difference between the inside and the outside of a cell. It is strongly suspected that when a bacterium becomes in contact with a copper surface, a short-circuiting of the current in the cell membrane can occur. This weakens the membrane and creates holes.
Another way to make a hole in a membrane is by localized oxidation or "rusting." This happens when a single copper molecule, or copper ion, is released from the copper surface and hits a building block of the cell membrane (either a protein or a fatty acid). If the "hit" occurs in the presence of oxygen, we speak of "oxidative damage", or "rust." An analogy is rust weakening and making holes in a piece of metal.
AFTER PUNCHING HOLES, HOW DO COPPER IONS FURTHER DAMAGE THE CELL?
Now that the cells main defense (its outer envelope) has been breached, there is an unopposed stream of copper ions entering the cell. This puts several vital processes inside the cell in danger. The copper literally overwhelms the inside of the cell and obstructs cell metabolism (i.e., the biochemical reactions needed for life). These reactions are accomplished and catalyzed by enzymes. When excess copper binds to these enzymes, their activity grinds to a halt. The bacterium can no longer "breathe", "eat", "digest" or "create energy."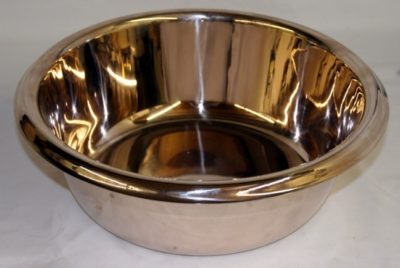 HOW CAN COPPER'S EFFECT BE SO FAST, AND AFFECT SUCH A WIDE RANGE OF MICRO-ORGANISMS?
Experts explain the speed with which bacteria perish on copper surfaces by the multi-targeted nature of copper's effects. After membrane perforation, copper can inhibit any given enzyme that "stands in its way," and stop the cell from transporting or digesting nutrients, from repairing its damaged membrane, from breathing or multiplying. It is also thought that this is why such a wide range of microorganisms are susceptible to contact action by copper.
COPPER ALLOY FEATURES:
Solid materials with inherent antimicrobial properties that last the lifetime of the product, unlike coatings.
Continuously active, rapidly reducing pathogens.
Completely safe for humans.
Easy to clean, compatible with standard hospital cleaning.
Excellent durability.
100% recyclable.
Familiar materials used for centuries.
Available in a range of colours including copper, gold, silver and bronze.
THE BENEFITS OF ANTIMICROBIAL COPPER
Copper is inherently antimicrobial and shares this benefit with many copper alloys including brass and bronze. Collectively termed 'antimicrobial copper', this family of metals is used to make touch surfaces that will not harbour pathogens that cause infections, actively killing them 24/7 and in-between regular cleans. Antimicrobial copper has proven efficacy against a broad range of pathogens. This includes those with antibiotic resistance such as MRSA and VRE.'Replacing the surfaces most often touched by staff, patients and visitors with antimicrobial copper equivalents will help reduce the risk of infections spreading via these surfaces,' Mr Oko says. 'It can be used as an adjunct to other infection control measures – such as regular hand washing and surface cleaning and disinfecting – to improve patient safety.
ANTIMICROBIAL COPPER IN CLINICAL SETTINGS
'Reducing the rate of infections means a substantial reduction in a patient's length of stay, a reduction in their mortality risk and a reduction in overall treatment costs. Antimicrobial copper surfaces make sense from a patient safety point of view as well as a financial one.' Antimicrobial copper has been tested in clinical trials around the world – representing a range of healthcare environments and ward types. Including an emerging technology in the latest National Evidence-Based Guidelines for Preventing Healthcare-Associated Infections in NHS Hospitals. Studies show>80% less contamination on copper surfaces than non-copper equivalents. Results from a US clinical trial, funded by the Department of Defence, further observed a 58% reduction in intensive care unit patients' risk of acquiring a healthcare-associated infection when just six key touch surfaces in their rooms were replaced with antimicrobial copper items.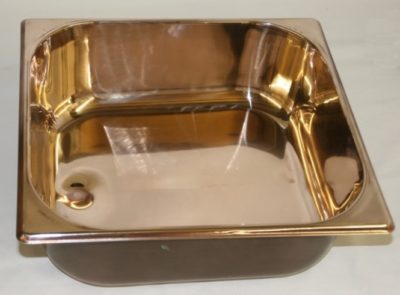 KEY MESSAGING ON COPPER TOUCH SURFACES:
Self-disinfecting – kills bacteria, viruses, yeasts & fungi
Works 24/7, between touches and between cleans
Proven effective under typical indoor touch surface conditions –
Unlike many other antimicrobials, copper works whether wet or dry (even faster when dry)
Antimicrobial efficacy lasts the lifetime of the product: protection never wears out.
Standard inert materials can harbour pathogens, even after professional cleaning
Non-leaching contact-kill of pathogens: extremely unlikely to contribute to antimicrobial resistance
Safe for people, ecologically sound: no coatings or nanotechnology.
Compatible with standard cleaning processes and detergents
Oxidisation does not impair efficacy: can be maintenance-free or self-indicating for feedback to cleaning teams
Intrinsically antimicrobial, copper is the only metal approved by US EPA to make public health benefit claims*