Stainless Steel Under Table Drawers – Manufactured in House.
Product Information
Fellow's Stainless Steel Under Table Drawers come in a choice of positions Left, Centre or Right hand placing Lockable or non-Lockable. These drawers are generally used for storage of regularly used items such as various catering equipment, Knives Cutlery etc.
The Full range of Fellows Under Table Drawers Product Specification.
Drawer Fronts: Manufactured from 1.0mm 304 Stainless Steel Brushed Finish to DP180/220
Drawer Runners: Ball Bearing Runners, Full Extension, Load Capacity 41kg
Handles: Available in either Recessed or Pull Options.
Drawer Frames: Manufactured from 1.0mm 430 Stainless Steel.
Security: Lockable or Non-Lockable Options.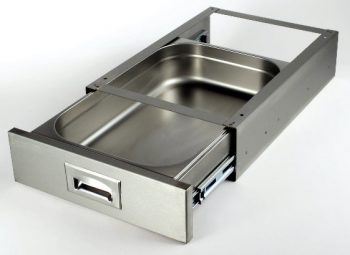 Drawer Position: Where Drawers are ordered with Tables, unless specified otherwise the standard positioning will be as follows:
Single Draw: Central to the Table.
Two Draw: Extreme Left and Right of the Table.
Three Drawer: Central and Extreme Left and Right of the Table. 
Suspended Draw Stacks: Are available that are secured from underside of the Table, depending upon Customer requirements regarding the quantity of Drawers required in the Stack and the size of Table required, additional supports may be introduced to reduce deflection and improve safety.
Free Standing Draw Stacks: Constructed to the same high specification as our standard Drawers, but fully enclosed in a 1.2mm 304 Stainless Steel outer console. The free-standing Drawer Stacks come in a range of sizes as detailed, with the base model designed to fit under open fronted Wall and Centre Tables.
Draw Quantity & Positions Must be stated at point of ordering if standard positioning is not suitable.
| Code | Description | Depth Front to Back | Width | Height | Pull Handle | Recessed Handle | Lockable | Non - Lockable | Standard Position for 1 Drawer Unless specified | Standard Position for 2 Drawers Unless Specified | Standard Position for 3 Drawers Unless Specified |
| --- | --- | --- | --- | --- | --- | --- | --- | --- | --- | --- | --- |
| SC/DP/P150-100 | 1/1 100 Drawer | 555 | 390 | 100 | Yes | | Yes | Yes | Central | Left & Right | Left Right & Centre |
| SC/DP/P150-150 | 1/1 150 Drawer | 555 | 390 | 150 | Yes | | Yes | Yes | Central | Left & Right | Left Right & Centre |
| SC/DP/P163-100 | 1/1 100 Drawer | 555 | 390 | 100 | | Yes | Yes | Yes | Central | Left & Right | Left Right & Centre |
| SC/DP/P163-150 | 1/1 150 Drawer | 555 | 390 | 150 | | Yes | Yes | Yes | Central | Left & Right | Left Right & Centre |